Thursday, September 29, 2005

lalalala ~~~~

back.

monday .
my bday .
thx to all who sms me and added a testimonal at my friendster.
thx all

that was the first day of sch
and it was just a 1 hour class .
Oh my oh my .
and with our 'BUDGET' SINGH.
stupid lah .
blehz

went to pizza hut for lunch
with kerine .benard. meichiew . grace . chris. fiona
then kinda celebrated my bday .haha
thx manz ! .haha
went to holland village after that.
then went home

- tuesday -
blehz . normal day.
oh my god . my course tutor damn naggy can . OH MY OH MY

-wednesday -
YEAH ! . shatec polo tee and sports shoes finally !
haa.
but everybody look wierd . coz we are used to seeing one another in formal wear
.haha. bar showmanship
oh my . 25 international cocktail
how am i going to memorise them ?
only tried singapore sling.
did not try the rest coz i was having gastric

david chan was so cool .haha
strict but cool .
helped to clear up and we all talked to him .haha
wellwell .

then had cooking practical .
wahaha. me and mybest kitchen partner
wasted one carrot * oops * .haha
coz we are suppose to cut in different ways
we were like . OH MY . dunon how to cut .anyhow lah
then when we went to see teacher
he asked us the names
and we don;t know
and of coz . we are too smart ppl
we went back . tore a small piece of paper from my notepad
wrote the name and placed there as display .
wahaha .

- thrusday-
ohmy ohmy
today is the worst boring day
had lessons the whole day.
sit in class
the teachers are DAMN DAMN DAMN BORING CAN
can fight with MRS BALA ! . oh my
and low eng kee

went to J8 juz now with meichiew and grace
and saw . YEE CHING ! .haha

hmph .
tml had f&B practical .
wonder which training restrauant i will be posted to .
either horizon or visions .
wellwell . i don;t care
coz i am going to learn in the end .

lalalala ~~~~

projects coming up .
wahaha .

finally this week is going to pass.
wah . like finally !
haha

till then .


Y O N G T A H 8:23 PM

______________________________[ M Y S T Y L E.:::: ]

Saturday, September 24, 2005

utterly disappointed.
i am totally devasted

got to know the truth .
i know . i shouldn't be so petty .
yesh . maybe i am .
i am trying to best . not to blame u .
it;s not ur fault.
yesh . i am trying.

but this further on proves to me that
No one takes note of my presence .


Y O N G T A H 8:53 PM

______________________________[ M Y S T Y L E.:::: ]

Friday, September 23, 2005

i am back.
well .
kinda long time i did not updated
i am now on my pathetic week hoilday

i bet no one cares too .

Monday.
- lunch at fiona's house .
nice tom yam soup
went to town
took neoprints.
kinda nice hang out with them
well . they are . kerine . meichiew. grace . fiona. bernard

tuesday
- all about project
till 12midnight

wednesday .
- went back to shatec to hand up project
slacked a bit in the library while waiting for grace to touch up her project
came home . high fever

thursday.
- all abt work
woke up at 5.20 . gosh
cozi muz reach ngee ann poly main gate by 6.45
damn far
i was late . coz i alighted at the wrong stop
went to convenction centre
well . it was some MOE Work Plan Seminar 2005
meichiew : kerie juz now saw her teacher
me : ohh . confrim won;t see myteacher
the next moment
LOW ENG KEE appears . with mr nath
OMG . i run for my life
haha.
and i saw ms winnie tan ! . so happy to see her
it ended at 7
coz i waited for vincent's brother to come as one lorry is not enough to squeeze everything
alrights
then met sayhao.
well . this is kinda the first time .
someone called me to meet me up . coz i happened to sms him abt something and then i told him i was working at ngee ann
went to makan at jurongpoint
yesh .haha. we started our suaning session again

friday ( today )
- recieved a phone call yesterday saying i need to work
well .
met meichiew and grace at woodlands mrt at 7
waited for vincent
and saw sijie . bernice . eileen . cool .
i miss all of ur to the max . although i realise we really drifted apart .

went to revada . it's company outlet
ehm .
3 of us became packaging department staff
we packed like 2000 mealbox. and it was someting like bento meal like that
but it is in plastic
and sometimes we have to carry one box coz theyforgotton to put a item.
well .
and meichiew and i . almost performed stuns
coz the floor is so slippery . and our shoes are ehm . office shoes .haha
and we like . going to slip anytime and on our hands are mealboxes.
lala. pack pack pack
went off the nan chiau with . vincet's brother . Robert and a partimer - Andrew.
well . kinda sad lah . coz was like kinda alone.
haish.
i know i am a bit of . ehm . aunty like . or rather a bit of girlish
but i am trying my best to change .

the teacher in charge was so naggy can
it was some colours awards for north zone
and i saw mr sim . mr ramesh. mr ben chew and those awards winner lah.
and i set up the V-VIP tables.
haha. only 12 pax . CHEY! .
and no aircon
well . i was in myblackpolo tee and long pants
and my shoes . my precious shoes . now got winkles ! . smack myself.
and kinda fed up with the northview prinipal
GO AND DIE lAH . uwant all the table to fill with food for wat ?
then all never eat.
haha. and withthe limited variety
using the same food . i changed placement .haha
the female teacher from north view was cool . at least she speaks nicely to us .
mrs lee i think .haha

hmph .
missed the gathering .
well . no comments . i think they are much more happier without me

and when the V-VIPS came down.
i got a shock in my life again
among them was LOW ENG KEE !
screams ! . luckily it wasnt in a aircon hall
orelse . i will be in my white shirt . black pants . leather shoes
and the red vest and bow tie
helping them to place napkin when they sit down . and serving them
SCREAMS . i can;t imagine that can.

well . they lobang me till YCK mrt .
suddenly i realise.
my life sucks
really sucks.
don;t ask me why.
i juz need someone to talk to
or rather . sometimes i find staring at the tv and laughing is kinda fun.
and i juz finish a packet of korean maggi mee.
slurping it as loudly as i could and giving out a AH ! when i drink the soup
it kinda reminds me of those old days in malaysia .
when i eat maggi mee with my late uncle

i realised . i lost interest in food.
i don;t know why.
i skipped my lunch and dinner
and breakfast was juz one small hotdog bun with 7-11's mash potato
actually did not wanted to eat the korean maggi mee
i juz dunno why . i lost interest in food .

i simply hate myself to the max.
can i juz disappear from this world .
when juz now i was nan chiau.
sch bell rang. student come to canteen
or rather some was in class
i really reminds me of my lower sec days.
the days where band room still did not open daily .
staying back after sch . running around.
i really really miss those days.

sometimes . i realise . i kinda like . ehm . sad songs.
as in . singing it out loud . yesh . right now . i am singing it out loud.

hoildays will be gone in a few days time.
as in 2 more days.
the weekends

i am blasting this song by yuan wei jue xing
tian kong.
i reallyreally hate myself.
nothing can really cheer me up .
yesh . no one take note of my presence.
no one . no body.

Gone .


Y O N G T A H 10:23 PM

______________________________[ M Y S T Y L E.:::: ]

Sunday, September 18, 2005

alrights i am going to retype again .

wellwell . i took truckloads of pics
117 to be exact ! . and i going to update all .
i dont care . haha

Disclamier : it is going to be A SUPER LONG ENTRY !

woke up at 5.30 .
then was at the living room with dad.
and mine san gu ( 3rd aunt ) arrived and was like making the sound . shhshh outside the door
scare me sia .haha.

then blahblahblah.
off we go .

reached malaysia customs . hmph . all of us except dad and san gu's son went down to get the white card to keep extra
who knows .not open . sianz .
took some pics along the way .



The Johor Customs


Dunno wat this new building is .


Hospital . ehm i forgotton the name .haha



then reach air hitam le



the beautiful mosque along the way



alrights .
then fell asleep on car .
lalaa. and soon . reached batu pahat le .
then stupid dum dum . they blocked the major road.
ehm dunno for wat.
so we have to change road.
well . basically dad and sangu was like . turn here lah . nonono turn there lah .haha
i happy took pics .haha

the buildings in batu pahat are so old can .
either is like 1942 or 1958 carved on the buildings . hah



the streets .



lalala. later finally reach le

KAMPONG SEGENTING ! .
lalaal.
then walk to the ancestral house.
coz it is kinda inside and the roads are too small for vehicles.
only motorbikes
so . .lalal walk walk walk

then when we all went in
the centre attention of the day

LETS WELCOME and PRESENTING the NEW member of the LOH FAMILY
LOH CHANG QUAN
the son of 6th uncle.
he is only 6th month only .
and he is so cuteeeeeeeeeeeee !



chang quan on the toy chair



then went down to the foundations with cousin .
usually we can;t go down coz it will be flooded with sea water .
but today low tide .
coz 6th uncle is there repairing the foundations .
lalala.
took pics from there .



the foundations


pics one . water is coming .



ehm .
there is this island .
abandoded island.
coz now no ppl live le . the malays who used to live there . all shifted to mainland le and the lighthouse is also not functioning le .



the abandoned island


dunno wat bird is this . and it is eating a fish ! . haha.


far far away .there is a boat .


far far away .there is a boat .


the boat . i think a fishing boat .


some funges on the rocks


this pic is so nice .


the water is coming . run for our life !



alrights .
going to uptide le .
so went back to the house.
ehm . bored .so went to the back of the house .
took pics .

haha. this is the remaining part of the old house . the rest demolish le .
left that mini kitchen . old toilet . and storeroom which i always can;t open the door .



the old house . OMG . who opened the storeroom door


the view from the back of the house .



then was so bored.
so went to the bridge. alone can
haha. no ppl even know u went there

well . who cares . i am free to roam abt .haha

it is actually a bridge build for the purpose of letting fisherman park their boats and load the fishes lah.
but then they call it lover's bridge . coz in the evening can see sunset.
and last time it is made of wood . and the wood mayeven turn when u walk
but now concrete le . not fun le .haha
in the night . got a lot of couple sit at the sides ofthe bridge
p.s. if u look at the pic . there is no railing or watever
so if u drop into the sea. GOOD LUCK
hah. and quite a number of singaporeans go there .



the signage


the foundations of a fallen house


the bridge.


woah . uptide le .



me and the sea .



alrights .
then went back to ancestral house.
alalal . was playing with chang quan .haha
he is so cute can .
and he loves to take pic .
he keep looking at me . not camera shy.
until i have to get my newphew to distract him in order to take his pic .



emo pic .


take 2


take 3



ohyah . chang quan got the LOH Family features .haha
small mouth . like me and my dad and his siblings .
but he dont have the double eye lid . ehm . i also don;t have .

then went to 2nd uncle's wife house .
she is running a kopitam at the starting of the kampong
so walk walk walk . then later me and mum came back first .



on our way back


the banana tree and the attap house



then went to the temple .
hmph. this temple got lots of singaporeans come sia .haha



new added statues to the temple on the newly extended grounds .


the bridge from the temple's view



alrights .
then got changed .
proceed to 3rd uncle;s house .
his daughter getting married.
kampong like that one . theywill invite u for lunch at their house also .haha
lalaa.
ohyah. saw this papaya tree with no leaves !



papaya tree



lalal .then after that went shopping . dad . mum . me . san gu . bought shoes
then went back
went to eat wantan mee .. dad;s favourite stall since young .

then . we almost lost our way when we go back.
coz the roads now all one way . expect a few
but i am excited .coz i can take pics .haha




the old buildings


the soon to be vegetable farm . on our way back .



then went to thetemple again .
lalala. ahyah. nothing to do mah.
time pass so slow there



that funny looking house .


the white concrete buildingwith white roof . = ancestral house !


the temple . with 3rd uncle and dad as ehm . the extras .haha



alrights .
then went up to the 2nd storeyof the temple . via a cave they build .haha.
got deities along the way . something like haw par villa the dragon thingy
took pics again .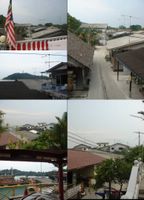 the kampong days .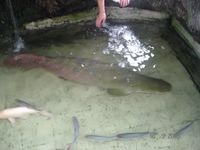 the big big fish . there are 3 of those .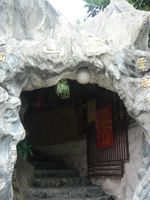 the entrance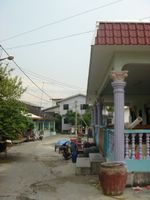 on my way back



then pop by another aunty's house .
coz dad was there with chang quan
she was making ang ku kueh ! .
handmade one ok .



ang ku kuehs ~


front of the ancestral house



then took pics of chang quan again
coz he is in front of me . on his make shift bed .haha



chang quan



lalal .then fold joss paper for tml's grandma death anniversary praying thingy.
after many mnay hours of folding.
time to get dressed to go to wedding dinner le !

smallest uncle and family also came le and we fold even more joss paper .haha while the rest was like fighting for toilet .haha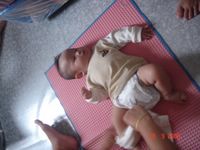 chang quan dressing up



then while we are going out.
came 4th aunt with cousin shan shan
haha.
and my cousin was like .

let;sall welcome MS LOH . she have no come back for 11 years !
haha.then another cousin of mine call her 4th aunt onthe way
she : ehm . looking at us . who is he ?
she : ehm .u call me 4th aunt ? oh . okok .haha

lalala. then we all walked to the front of get our cars
lalaal . walk walk and walk



the so call carpark


on my way to wedding dinner . i love this pic !



alright .
lalaala. we reached the place le .
ehm . we are the earliest lah
but we entertained ourselves
u never know
lots of jokes with my aunts and cousins around .
haha. but all in hokkien lah . but i understand .haha
especially the sa ba ness of my aunt and cousin .haha
no one can fight with them .

lalaal. of coz i took pics .



lalaal . the stage .


nice poster they made . cool


the cloth in the cup . haha.



alrights . then came cousin
the moment i saw her . i was giggling like mad can
coz everytime i see her .
regardless chinese new year . wedding functions .
she is always in her chinese RED cheongsam
and now she is in her RED GOWN .
wahaha.
even mum was laughing like mad .
and cousin and aunt was laughing when i told them
alrights . i am bad .haha

lalala.



YUM SENG thingy .haha



alrights . in wedding dinners in malaysia
there is karaoke . lalaa
and of coz . my cousins are up again to sing their hokkien songs
they sing nice can .haha
but only us cheering for them . wahaha .



cousins singing .haha



and when the cousin on the right came back
he say .
he : my sight view look like dong li huo ce right
us : ehmmm
shan shan : YESH .
then another cousin : ehm . with the help of alcohol she said that
wahahaa .

then that chang quan
make noise again
he was basically passed all around . from one table to another table .
for ppl to carry around
and when he came to our table .
with san gu lah .
he was like sleeping le
FINALLY .haha



chang quan with san gu



alrights .
then finish wedding dinner le .
the food was NICE ! .
thne wentdown.
wanted to take pic of the couple
and cousin was so nice to offer me to take with them
but no one was around to help me
so i thank them and took them .haha
kinda regretted lah . but i got their pics . haa



cousin-in-law with cousin



went back .
that chang quan
bluffed all of us .
he pretended to sleep ! .
then we even off the radio . keep quiet .
and he was like staring at san gu .
piangs .

then went to bridge .
ehm . so dark . can;t see anything .
then went back to sleep . damn early sia .

woke up next morning
mum . san gu . shan shan and 6th uncle went to market to buy things for offerings later.
me nothing to do .
so went to take pics again .



view from the ancestral house


take 2


the rubbish .haha


next door



then went to the back of the house.
took pics again .



low tide


lowtide . can u see the mist . ?



lalaa. of yah.
the old toilet !
everything goes into the sea
basically .it is juz hole
so if u drop inside . GOOD LUCK ! .haha



Yeeks! .haha



alrights .
then went the bridge with dad and fourth aunt .
so cold sia .



low tide


the bridge . can u see the different colours of the sky ?


the sun is rising


the kampong is sleeping with a layer of mist covering it


low tide + mist


let's go back . haha. with dad and fourth aunt .


ehm. the so call resort .haha


on my way back to ancestral house


the plant on the electrical post



alrights .
then was like so bored can .
so walk walk around.
hmph.

this pic is a collpased house.
ppl use to stay in that house when their house renovate or wat.



The collapsed house



ohyah.
in that kampong
there is no such term as rubbish bin
so everything.
INTO THE SEA ~~~~
so . we juz happy throw
u name it we throw it
even cupboards .
lalaa.
i contributed also ! . the chicken drumstick that 6th uncle's wife fried !



can u spot my eaten drumstick ?


the rubbish . haha. juz beside the house .


u only see this in museums ! .haha



hmph .
then went to buy mineral water at the shop beside the temple with shan shan and sangu
i took a mineral water and accidentally dropped it
and the cap flew off .
and i was like . heng ah . confrim no ppl who knows me other then shan shan and sangu
who knows
OMG . 3rd uncle and 6th uncle was there.
ARGHHHH. damn pai se lorz.

lalaa.
then went back
makan makan
and set up .
everybody take like queue up to offer joss stick
even our little chang quan was carried in front and like use his hands to bai bai
but he started crying like mad after that

wah .seriously OMG
coz so many ppl offer the joss stick until no place to anymore jossstick le
the whole living room was like so smoky
and i have to escape into the room and fold joss paper where the rest babysit chang quan



the joss paper we folded !


the food . yum yum



then later . we take to burn the josspaper
dad was like pouring it into the big big tin that burns
and mum , sangu , 4th aunt , me was like opening up those joss papers
and cousin from the shade.
AHYOH . how come u all sooo. gong. stand outside . got sun lehz
come inside to do lah
then i happily went inside .haha
finally manage to learn how to like flip the paper .turn turn turn it .haha
lalaala..



wah . so shiny !


those yuanbao i folded !


so shiny again .


wah . smoke ah ! .



then keep le .
and 4th aunt was like
ahyoh .u all got ask can keep or not
us : after burn liaoz can keep wat
she : wait wait .
takes the 2 coins on the altar table
she : MOTHER AH! . * in hokkein * can keep or not .?
and she throws .
and can .haha
everybody was laughing mad coz the way she speaks .haha.

and then makan makan
and off we go back to singapore
lalaa
and of coz i happy slept all my way till johor bahru and then i woke up .
wahaha

even of the whole story ! .
that;s all folks

enjoys the pics ?
will take more when i go back the next time.
hopefully soon .heehee
and also my maternal side.
then u will see oil plums , rubber trees and plantations .
and also pics of cousins and YI XUAN !
haha

till then.



on my way home

Y O N G T A H 10:10 PM

______________________________[ M Y S T Y L E.:::: ]
M I N I B I O. : : : :
[ name ::: Loh Yong Tah ]
[ gender ::: male ]
[ age ::: 16++ ]
[ bday :: 26-09-1988 ]
[ horoscope ::: Libra ]
[ nationality ::: Malaysian ]
[ height ::: 163 ]

i am no other then LYT , Loh Yong Tah . if u want to know more about me , read my blog or u can add me at friendster , drop me an email or add me on MSN : yongtah@hotmail.com


C O N N E C T I O N X. : : : :



[Abdullah] [Aini] [Aizat] [Alicia] [Alison] [Allen] [Angeline] [Annette] [Aretha] [Audrey] [Bernice] [Carol Lee] [Carol Wong] [Chee Geok] [Chrispher] [Chye Hsia] [Clarissa] [Damien] [Dominic] [Eemei] [Eileen] [Eugene] [Eunice Ang] [Eunice Lim] [Faree] [Farhan] [Farhana] [Fiona] [Geneviene] [Grace] [Guang Wu] [Guo Wen] [Gwenyth] [Hafiz] [Huizhen] [Huilin] [Jacklyn] [Jamilah] [Jarrel] [Jaryl] [Jerry] [Jieqi] [Jing Min] [Jonathan] [Joyce Loh] [Joycelyn] [Kai Yan] [Karen] [Katherine] [Kenneth] [Kesha] [Kin Huan] [Liang You] [Lishan] [Lionel] [Lisa] [Loo Yee] [Mardiana] [Mark] [Melvin] [Melvin Chan] [Michelle Ang] [Milano] [Nakarine] [Nathanael] [Nicole] [Nilam] [Othman] [Patricia] [Peiying] [Roland] [Sabrina] [Sakinah] [Shan Shan] [Shiying] [Shi Ying] [Sijie] [Sok Yin] [Sue Anne] [Tiffany] [Tutti] [Victor] [Wei Cong] [Wendalyn] [Wilson] [Winnie Tan] [Xiang Hui] [Xiang Ting] [Xueli] [Yazid] [Yee Ching] [Yen Ling] [Yu Yan] [Zhen Wei] [Zhi Wei] [Zhi Qun]

O T H E R S . : : : :

+ 4A4-ers
+ OPMB Webpage
+ Bedok North S.B.


P H O T O S. : : : :

+ 4A4-ers
+ CNY 2004
+ OPMB
+ NeoPrints

C O M M U N T I E S. : : : :

+ 4A4-ers
+ eMaL ClaN
+ OPSS
+ OPMB
+ Cimfoniq
+ BandZone
+ BDWSS Band
+ BPS Band

L I N K S. : : : :

+ Hotmail
+ Yahoo
+ Friendster
+ Everyones Connected
+ hi5
+ Multiply
+ Tickle
+ Who Lives Near You
+ Zorpia
+ Photobucket
+ Bebo
+ Blogger
+ Blogskins
+ TagBoard

A R C H I V E S. : : : :

+ Open Diary Entries

04/01/2004 - 05/01/2004
05/01/2004 - 06/01/2004
06/01/2004 - 07/01/2004
07/01/2004 - 08/01/2004
08/01/2004 - 09/01/2004
09/01/2004 - 10/01/2004
10/01/2004 - 11/01/2004
11/01/2004 - 12/01/2004
12/01/2004 - 01/01/2005
01/01/2005 - 02/01/2005
02/01/2005 - 03/01/2005
03/01/2005 - 04/01/2005
04/01/2005 - 05/01/2005
05/01/2005 - 06/01/2005
06/01/2005 - 07/01/2005
07/01/2005 - 08/01/2005
08/01/2005 - 09/01/2005
09/01/2005 - 10/01/2005
10/01/2005 - 11/01/2005
11/01/2005 - 12/01/2005
12/01/2005 - 01/01/2006
01/01/2006 - 02/01/2006


D E S I G N E D BY. : : : :

Copyrighted Loh Yong Tah 2005
All Right Reserved