Wednesday, August 31, 2005

WOHO !
TODAY IS SUCH A FUN DAY !

SELF - DECLARE HOILDAY . WOHOOO !

alrights .
i shall be a good boy .
and post the pics
SCREAMS . haha
i am mad lah today

hmph
met joyce ching and sayhao for breakfast at 7.30 at mac
i was late lah
alrights 7.30 ok .
so i have to like wake up at 6.50
like sec sch . piangz .haha

we talked abt those old days
me and joyce .
the record setter for physics in OPSS history
THE LOWEST MARK RECORD

Classic example
Joyce : PHYSICS GET HOW MUCH
ME : 14
JOYCE ching : YEAH . I GET 11 .haha
both of us simply loves to compare who gets lower

mr tang : both of ur are the lowest mark record for OPSS's physics.haha

those were the days k .haha

bought chocolate for mr tang and mr goh .haha

then went to sch . lalala .
then yuyan . rashid . kelvin tan ( uncle tan lah )
then went to find MRS SASI

and of coz . rashid and Mrs Sasi started arguing
OH MY GOD .haha never ending story
me and joyce like . back to those times . never ending argues .
of coz mrs sasi will win lah .haha

then went up .
ahguang ( Guangxian ) came ! and we were like debating
has ahguang became fatter . how bad of us . haha.
then chat for a while
go inside watch concert.

but he went to sch after a while .never get a chance to take pic with him .haha

me and joyce was like
last time we wanted to sit on the chairs
now we want to sit on the floor with them ! haha

ohyah . i saw my SHATEC senior
she's one year older then me .haha
another OP one ! yeah
she best . come in her unifrom .
then later going back to sch . coz she ask her friend to help her mark she is there
so get half DP
coz today;s teacher don;r really care one .
SALUTES ! haha



SayHao and ME !



sayhao was beside me lah
we were laughing like mad .
especially the teacher-look alike competition
so LOOK ALIKE . especially for the Mr Simon cheo one
the hair . the backview . shirt . pants
juz that he is slimer lah
even his shake leg action also the same
wahaha. all of us look at mr cheo .even mr low and mr nath .
all the ppl lah .haha



Mr Sim's shirt ( back )



mr sim;s shirt
his shirt nice sia .haha
he was sitting in front of me .
BLOCK MY VIEW ! @*#T%*#)$ haha

then later.
went out of the hall . gosh
OPSS sch hall is still as hot and stuffy as EVER !

took a pic of my band members haha



Charlene . Yaser . Annette



then take pics with sokyin . nicole . jacklyn .haha
yeeching was the photographer lah. CREDITS TO HER LAH !

haha



Me and Jacklyn !


Sokyin ( she's falling asleep . oh gosh ) . Me . Jacklyn . Nicole !


Sokyin and ME !



lalala . then went to canteen
chitchat a bit .
take pics again !



Li Jin . Sokyin . Me


Me and Joyce . My ' Cousin ' by fate . haha


WE ARE THE LOHS .
we simply rawks .
coz we are the LOHS .haha



Me and Geneviene .


Me. Yi En . Renick



then . the 2A2 Reunite ! .haha
so fun .



Yi En . Me . Pat . Jacklyn . Joyce . Nicole . Geneviene



and with the invation of sokyin and ms foo !
haha





then take pic with yenling
she . at first say : for wat . so many pic le
me : then dont want lorz
she : i want i want .haha



Yenling . me



My buddy in Band ! - MARCUS


Marcus . me


That's US ! . Uncle Tan . SayHao . ME !


we always chit chat in class .haha



Sayhao and Me . his my best friend ! a really nice pal


we used to sit beside each other in sec 4 . haha



Me . Uncle Tan



haha . uncle tan . me and him always like bicker in class .haha
his a funny chap .haha
HOHO . UNCLE TAN ONCE AGAIN ! . AGREE ? BOSS Joyce Ching .haha
simply love calling him . UNCLE TAN !



Sylvester .( oh gosh. he act cutes ! ) Yiling . ( ok . for once she is taller then us ) . ME ! .haha



haha. yiling so excited to see sylvester . dunno why also .
ohyah. sylvester's nike shoe so NICE !!!!!!
and his hairstyle change k .

then the rest went off lah
left me and sayhao
went to staff room to try out luck

saw ms chang with keri .
lalaa. talk and talk .
and took a pic !



Keri . Sayhao . Ms Chang . me



lalala.
then me . sayhao . ms chang
went to music room lah
sayhao helped to repair the library
yeah
3 cheers to sayhao
then went accompany to his house .
coz he wanted to change and go to peiying . and i meeting farhana
b4 that in band room . charlene thought i quarell with farhana .haha

really have a nice time talking to sayhao lah.
long long time we never talk le.
talk abt . my sch . classmates . and blahblahblah

he is really a nice friend .
and i realise that he is really my best friend in sec sch.
but i dunno whether he think that way .haha
i don't really have much close and best friends in sec sch
one who i can really talk to lah .we can talk abt anything under the sun !

to sayhao : i know u most probably won;t see this .

u are really a very good friend .
although i like to suan u . and sometimes maybe hit u .
but . u are really one of my close friends in sec sch
especially in 4A4
thx for always be there to listen to my nonsences whenever i tell u
i really miss those days when we sit together at the back .haha
trying to pay attention and talk in class.

if u have any problems . don;t hesitate to call me . i will be there to listen to ur nonsences .haha
all the best to u .

Once again , Thx for everything .

then met farhana at mrt
first thing we said
HELLO ! . long time no see sia .haha
then went back to sch . lala
then saw vanessa .
ohgosh

i so happy can .
we are really best pals ! . yeah ! .haha
so fun talking to her .



Me and vanessa



then went around with her lah
went to second floor
oh my . so many 4a2 ppl . most is 2A2 lah .haha
then vanessa saw ben chew.
and she was like . wat we call him in sec 2 ?
then we both think think think . and got the answer
we so excited sia .haha

took some pics again .



Shiying . Sijie . Me . Cherie . Vanessa


Me . Sijie .



sijie . mine lower sec buddy . and pri sch friend .haha

then we went down
oh gosh . mark neo came
he look like coucilor lorz .
with his gold name tAG !
hah . me and vanessa like trying to imitate his actions in sec one
SHUT UP !!!!!!!!!!!!!
haha

took pics
and dunno who the idiot .
say. Yishun JC . stand this side.
Innova stand that side.
haha
then me . eunice . vanessa . quickly stand in the centre .
we are NEUTRAL ! .yIPEE !
haha.

2A2 reunites again !
with elise invates .haha
that;s bad . haha.



Take 1


Take 2



then chit chat
went to band.
clean band room . lalala
then me and farhana went off
we went to makan at chong pang kfc
then went to town
Wheelock place to get our HP repaired
saw bernard on the way .haha

lalala. then we went to .
wheelock place . taka . cineleisure .
tried to find melia but can;t find her .haha
then heeren . Lucky plaza 7-11 . then to the Far East
saw nicole .haha
then went back .
sia lah . my legs pain like mad

lalala.
i am without a HP till next week

So . please do not call and SMS me .
if not of my com
i will be a caveman .

days with no HP begans .
no more 933 FM on MRT .
SCREAMS ! NOOOOOOOOOOO ..
wonder how am i going to survive .

today;s visit was soooo fun .
all the best to everybody .
hope to see each other real soon k

i really miss those sec sch days .

till then .


Y O N G T A H 10:21 PM

______________________________[ M Y S T Y L E.:::: ]

Tuesday, August 30, 2005

lalala.
bombared with projects
k lah

lazy bum bum me .
tml going back to OPSS !
pon sch again .
ehm

SELF DECLARE HOILDAY OK .
that's nicer

can;t wait .


Y O N G T A H 9:56 PM

______________________________[ M Y S T Y L E.:::: ]

Sunday, August 28, 2005

haish . i am back with a heavy heart
i think that i am failure sometimes

well . to the ppl out there .
if u all not happy with me . juz open ur mouth and shoot at me .
I WILL CHANGE FOR THE BETTER .

really.

i am starting to miss my sec sch days like nobody;s business.
yesh .
although i am not so close with the 4A4-ers ( i am regretting it )
coz i always go to band
but i think that . those were the days whereby everybody is so frank with other.
helping one another .joking with one another
haish .

why are ppl nowadays so fake ? why ? tell me why ?
i miss those suanings
joyce ching . mish . pat .
michelle ang . xiangting.
yawen. slee . yiling .
ahguang . guowen and many many more !
yesh . and SAyhao ! .haha

i really miss all of them
and also my fellow bandmates
MY BATCH . 3rd intake !
u all rawks k .
and the band .
even ms chang .

all of ur rawks
i want to go back to sec sch.
really really really
frankly speaking . i can;t really find friends as good and as nice at sec sch
although i don;t have like really really good friend as in cliques .
but . they are all great k

even ppl from other class .
Quanyi . sokyin . ( water cooler memories )
and many other ppl .

how wish i was back at those days .

till then .


Y O N G T A H 10:05 PM

______________________________[ M Y S T Y L E.:::: ]

Wednesday, August 24, 2005

alrights .
i flunked my Front Office Management
but who cares ?

today went back to OPSS with melia after project
stayed for a while .and went back
manage to clear some of the things
Phew ! .

haha. the best part was fong mui , eliza , siying and ME imitating ms chang
and ms chang was like so -duno wat to say -

k lah . tml wil be a long day
OH MY GOSH !

til then.


Y O N G T A H 11:23 PM

______________________________[ M Y S T Y L E.:::: ]

Tuesday, August 23, 2005

hello !
haha. loh yong tah ponned sch for the first time in his ENTIRE LIFE !!!
amelia decides to invade yongtah's blog AGAIN! so bored people can go to his archives and trace the entry where yenling and i invaded. which, is a long long long time ago.

edit //
manage to find this post in the archives
*drum rolls please*
amelia invades mr loh's blog.
firstly, no no , no yaya-ing over anyone.
secondly, we all know yongtah rite.. he absolutely LOVES sprouting nonsense, especially these type of things.
thirdly, yongtah's so enthusiastic about his job tt he HAS TO work 12 hours a day.
well well well well well.
see, with amelia's invasion, yongtah's dusty blog has some audiences. ( ha, i bet when melvin hears bout this he'll be the first one coming to tag yongtah's blog. (btw, we're still in e music room, listening to wad e band's currently playing. mind u strangers out there SNOOPING on yongtah's blog, the band we're talking about here is a SCHOOL BAND, not some mini "i'm-in-a-rock-band-with-a-drum-set" band. HA!) dun u just find the conductor here dashing and charismatic??? i so love his earrings, uber cool, totally artistic-like. )
alright enuff rambling, yongtah here, aka "xiao yong" or rather, "tah-ge" is hurrying me to end this entry.
well if amelia get's another lucky chance at his blog-invading again, i'll definitely let u in on his BIGGEST secrets! i promise! *winks*


went out of house in shatec unifrom and
he is currently at melia's house slacking after going to see a doctor
he said that his stomach always feel bloated . (which is true )
and the doctor checked and confrim that it is gastric.
and gave him 4 packs of medicine .

haha. k lah . i am nonsences here . *amelia at e background rephasing his sentence* "I am being nonSENSICAL here" juz came back from OPSS
and after scaring eliza coz i told michael , siying and a sec one ghost stories of OPSS . *and actually left out our opmb 2001 batch of traditional story with Sally in it!!!*
haha so little can . OPSS got not say a lot of ghost stories . lalaa
so boring .
ms chang and mdm yang not around . no ppl to open to band room !
no wonder sch like so dead .
lalaa. gosh . tml there is front office management test

confrim fail with flying colours ! help lah


stupid yongtah doesn't want to do to sch. WHY?????
he thinks grammar lessons are not important.
should he even be forgiven for having such thoughts??????
yes. cause he bought Ruffles and Lays here!!! Sour cream and even BBQ flavour!!!

i paid for pART of it also can.

oh. yongtah INTELLIGENTLY reminded me of what i said in the previous entry. which was to let you snooping readers know more about his secrets!!!

ooh but im nice. i shall not tell u his secrets. let's just find out more bout what he did back in his old primary school days.

everyone knows tt he likes Doraemon right??
Wayway back in primary 5, he and two of his other buddies (their names cannot be disclosed so as to protect their identity) decided to perform some doraemon song in front of the whole class!!!
so in that old run-down but with fully working air-conditioned music room, three pint-sized boys went up in front of the whole class, and started singing!!

the best part??
With actions!!

*nods head* yep. they were the highlights of the day alright.


anyway he watched a Daniel Wu show here just now!! yes yes yes he agrees with me tt my DW is so handsome!! *hail DW!*

k lah . i am back again . hmph . melia's gone .
lalala. i am so bolted with all the chips .

going home soon le . for dinner ! .
and then maybe study for Front office management ?
OH GOSH
please help me ...it is even worst then accounts .
trying to scream for help at MR TAN . but he is not in OPSS TODAY !

i shall be a good boy today . like how i study my accounts . sit infront of mine table and study to revise !

till then .


Y O N G T A H 4:50 PM

______________________________[ M Y S T Y L E.:::: ]

lalala.
Disclamier : this is a boring post
one week passed
trying to recall wat had happened

wednesday
went to kate's house to do project
and yah
came home . sister watching superstar !
this is the first time i watch can .
OMG . that junyang sing damn nice .haha

Thursday
came home . watched superstar lah .haa

Friday
Morning mum told me . junyang was out and weilian was in .
i was like . please lah .
OMG can . wat's the matter sia
i still prefer junyang coz . he sings good and i agree to wat the judges says abt his singing .
haa.
those who have seen my previous msn nick should agree
Project superstar = pity superstar !
omg can .
pengz .

ahyah .to me . junyang should not be eliminated.
but watever.

sat .
slacked at home . did the webpage !

sun .
slacked at home . then went out in the evening with family
bought a jeans and a long sleeve shirt . .lalala

monday , yesterday
got ppl from CNB come to talk
oh man . i was like staring into space .haha
then . wentto bugis walk walk . with bernard and irmah .
BOOM !

and today i am back here
tml is FOM test
it is guaranteed for me to FAIL FAIL FAIL !
omg . even more complicated then POA can .
ahyoh ! . someone save me can ! .AHHHHHHHHHHHHHHHHHHHHHHHH

i shall . ONWARD and PERSEREVE !
Onward onward we go ~~~~~
haha

k lah .
till then .


Y O N G T A H 9:03 AM

______________________________[ M Y S T Y L E.:::: ]

Tuesday, August 16, 2005

alrights.
today is tuesday
now my PMS is on friday
which means . i start sch at 1 and end at 4.15
lalaa...

sat . went to cell group
met grace at the pavilion near the guard house .
haha. she's is LATE OK !.haha
and i spend my time to wind up my camera's wire while waiting for her .haha
kinda fun . haha. but i almost fell asleep during when baoting talk abt bible coz i am too tired.
really .
took pics ! .haha
ohyah . got to know some ppl lah .
melvin from St garbiel ! .haha
both of us were like standing at the corridor in jonny's house
socall preventing bubbles from running around .haha
but we were chattin lah.
he;s from NPCC . and reminds me of Xiang Ting ! the NPCC cadet in 4A4 .haha
she is still going back to help out in opss .haha. cool sia .
took the wrong bus . and ended up at AMK central . acutally can take 853 . but decided to walk walk around AMK central .



The WTM . wan tan mees ..haha


W171. ehm . melvin went back early.



sun .
melvin from CG called me & got me a shock. i was sleeping and suddenly the phone rang .
gosh .haha
then went to work in the afternoon
lalaa. kinda not happy with some ppl .
oh well . not going to talk abt it
ohyah . vincent NG was there !
cool . he is good looking in real life . and u can see all those veins and muscles on his hand and arm
but . he is not as big size and tall like in TV.
coz he walk pass all of us !
and of coz . we were gossping after he walk pass ! .haha
ohyah . i keep like clearing his table lorz .
who ask his table like nearest to the side door . and from our gossiping .
he like look at the person who goes to his table.
he did look at me and wat i did was to smile back and walk away . hahah
lobang vincent;s (boss) van with benjamin . reached his house
and took another's uncle van .lalaa

monday .
lalala . sch okok lah .
went to conrad .lala
ohyah. the stupid tiger lilies at the presidential suite
after i went in coz the air is filled with the smell
i am like snezzing non stop.

today .went to sch
grammar . lalala


during grammar lesson. i was simply soooo sianz


and i am dying lah.
i am sick
soar throat and flu .
ARGH !!!!!and felt like vomiting the whole day
and i vomitted some white white stuff juz now . blehz.

tml got project
and working on sat ( maybe )
and maybe not going to cell group le . haha .see how lah .
coz . i want and need to go back to opwo can .haha

well . kinda fed up over certain matter.
only ercong and bernard knows .

how do u feel when ur number is being pass on to one another without ur consent ?
one is ok .
but wat if . 3 ?
i suddenly remember those days
during the band exchanges . our band even ask one another for consent b4 giving out our e-mail add.
and remembering of the old OPMB ( OPWO was formely know as OPMB )



trying to be like a member in opmb . but this pic is taken in 2005 . and if i am still a student . i bet ms soo will come chasing after me coz of mine hair !



i regretted .
coz in the past . i think i am that ugly . , but until now i still think so .
i did not like to take pics. and it is until my last concert . OP.2004
then i started to like to take pics .
and i realise i have very little pics of myself during sec sch days .
especially in band unifrom !
but i do have some wonderful pics . i really miss miss miss those days .



The Percussion Section 2004


Bandmates . My favourite pic .



The Mallet Percussionists 2004 .
Charlene . Jannah . Me


Percussion Section 2004 . where's sebas ?


The almost full band pic .



The librarians with the library !.
Mr tan ( he was a librarian in his band days ) ,
Me , Yenling , Jinzhao . we simply rawks .haha



the few pics of me in sch unifrom expect for class photos



the eMal Clan .


I love this pic ! . i look so studious in it .haha
Me . GiokHui . Sakinah.


Me and marcus is the band room . can u spot the mace ? haha


me and quanyi . and the invasion of puay kuan ! =p


Me and Mr Goh Chye Joo


Me . Sakinah . Joyce . Xiaoling !.haha



back to the hp thingy.
well . i can;t be bothered
every night . something will happen .
i am fed up

but . i am standing here . firmly and waiting for the next step u all are going to take
so . wat's next ? i am all ready to for it .

i want to go back to OPWO !


i miss my section . i miss the band . i miss the library , the metal cupboard
but i don;t miss the tonnes of things undone chucked in the metal cupbard !.haha
and ms chang's nagging !
i am owing her lots of things.
which some she doesn;t know and remember. heehee .
but mr tan knows ! ( that's even worst )

i have been always in my mind that i got no close friends
a person who i can talk to me .
or rather . no brother .haha
but i have nice jiemei like melia !
she will even chat with me when she is busy .haha



Melia and me .+ flowers .haha



ohyah
that day i saw nic's blog .
haha. remember those days
my boss ( joyceching ) , that gohyiling and mish .
running and hiding away from ms soo
regardless of assembly . on the corridors . recess or after sch
or asking the guys to block them .coz .
ms soo will catch them and throw their socks into the BIN
as for me .

if u think i am that guai .
u are wrong . i do wear ankle socks . but due to mine long pants .haha
and during assembly . when ms liem walk pass . i will see me trying to pull my pants down to cover it .or trying to cover it with somenotes
and for some wonderful reasons.
i was never caught b4 .lalaa

the ankle socks and the ms soo-chasing-us days.
from hair . unifrom . socks . shoes .
from top to bottom
wahaha. really miss those days.
coz running away from ms soo is sooooo fun .
ehm . i mean . seeing ppl running away from ms soo.
especially my boss . joyce ching
u will see her being so innovative and diligent . trying to lead the class back to class.
coz ms soo is coming towards US !.haha
those were the parade squares days .
and she will start running and say. AHHH ms soo .
* imatiting her action during she runs * and patricia's and ahguang's laughter !
and they bickering.
ohyah. guowen and pat . haha.
and gohyiling's and me bickering in band and in class.
ohyah. zhiwei and joyce's bickering
that is classic.

i simply miss and miss those days
in the 4A4 classrooms
tryin to act like good students when mr low arrives .haha

and to be more exact
* adapted from 4A4 blog *

We are the people from four AYE four.
We crap,
We turn on the air conditioning,
We play catching and horrible-lies our 'beloved ' teachers.
Horizontal-ling are not our cup of tea,
Mrs. Leicester we love to hate
Ms Liem teaches us how to fly the kite , play TaiJi .
Mrs. Sasi is the queen of nonsense
Mr Goh blow our mind,
Mr Tang calms us down.
Kim Twee makes us shiver,
Mdm Loy scares us out of our wits with her ' motherly ' stares .
Mrs. Bala sings us a song
Mrs. Lee gets us on our toes

That's simply 4A4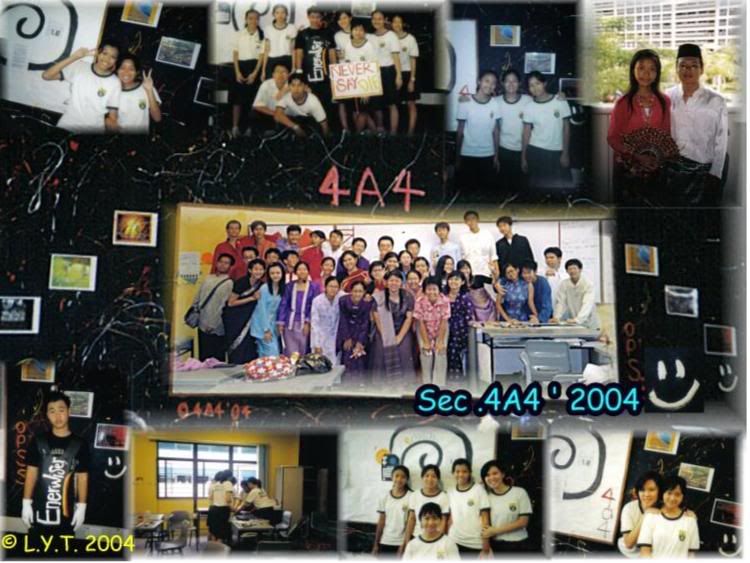 a pic is designed during my sch days .

wahaha . i miss 4a4 lots and lots .

i am feeling super nostagic
how are u my dear friends and OPSS schmates ?
how wish i was in poly too .
at least i will still get to see all of ur .
but . shatec is fun too .
all the best to all of ur
and hope to see yah on the streets of singapore !

and please try try try to make it on teachers; day
and i am goin to pon sch .
i don;t care .
i juz simply miss those days .
the 4A4 classroom . the parade square . the sch hall . the art ROOM !
OPSS simply rawks !

hoping to get well soon .

till then .


Y O N G T A H 7:25 PM

______________________________[ M Y S T Y L E.:::: ]